Auction Details
Type: Online Auction Click Here
Date: Tuesday, July 18, 2023 @ 10am
Inspection: Monday July 17th @ 9am-4pm, or by Appointment
Location: 197 Hanlon Creek Boulevard, Guelph, ON N1C 1C1
Transaction: Canadian Currency + Buyer's Premium and 13% Sales Tax 
Registration: Link to auction
Featuring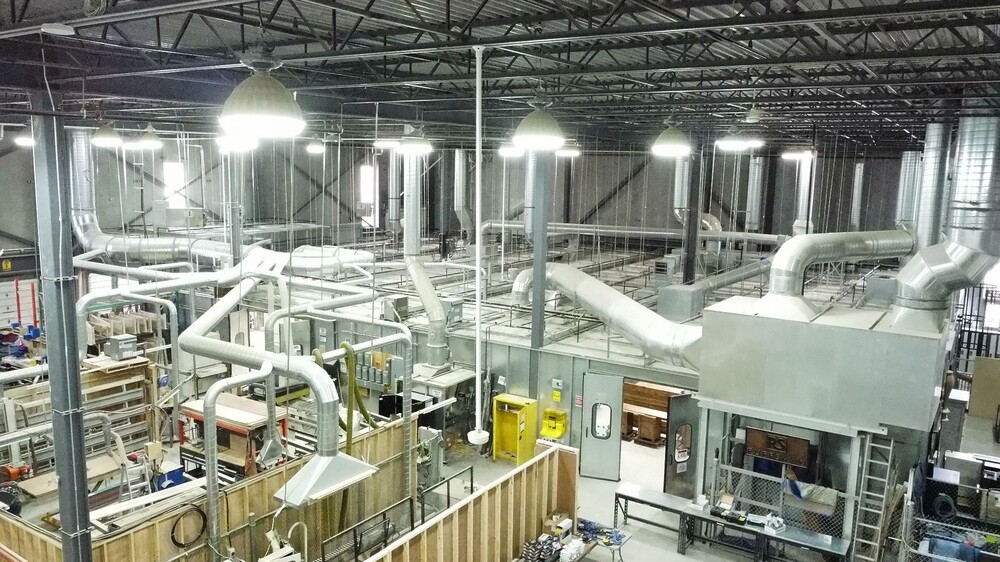 Custom Free Standing Paint Booth
ELITE AIR SYSTEMS Custom Free Standing Spray Booth, Approx. 8,300 Sq. Ft. x 10'H Footprint Consisting of: Seal & Stain Room, Mixing Room, Top Coat Room, Flash Off Room, Sanding Room, Drying Room, Loading Room, Painting Room, Bench Touch Up Booth, Compressor Room, Kremlin Rexson Pumps, (15) Exhaust Fans, Air Make-Up Units, Blowers, ELITE AIR SYSTEMS Industrial Control Panel, Model EA-CP-5M-8E-8L (ORIGINAL COST $600K+)
Saws
BOSS MACHINERY UC-18LH Up Stroking Saw, s/n 33249 w/ Conveyor & TIGER STOP Measuring Device
CANTEK C12RS Straight Line Rip Saw, s/n 050022035
HOLZHER 1205 Panel Saw
2005 SILVER SH-700 Vertical Bandsaw, Variable Speed, s/n 10503 w/ 2005 SILVER SHF-150 Shaper Attachment
SAGITTARIO SC 600 Vertical Bandsaw, s/n 7310
STEEL CITY 20-400S1 Vertical Bandsaw, s/n 21200186
DEWALT Compound Miter Saw w/ Roller Conveyor & TIGER STOP Measuring Device
MILWAUKEE Compound Miter Saw w/ Table & KING CANADA Dust Collector
MILWAUKEE Compound Miter Saw w/ Table
Sanders & Planers 
2011 SILVER SRP-1100NDA Wide Belt Sander, 43"W, 3-Head w/ Single Head Planer and Dual Head Sander, s/n A1005
SCM CS92 Wide Belt Sander, 36", Single Head, s/n AE003228
2021 SILVER SMM-2630 Edge Sander, s/n 2101202
PROGRESS Edge Sander
STATE P4 Drum Sander
Drum Sander
CONSTRUZIONI MECCANICHE L82S Stroke Sander
RB-630 Thickness Planer, 25"W, s/n D-0565/3
Shapers
SCM T120C Shaper w/ Feeder
2019 STEEL CITY HS-6-3 1-1/4" 3-Spindle Shaper Machine, s/n 18125
R.S. BROOKMAN Dove Tailer
CNC Machinery 
SPINDEL MEISTER 12-20 CNC Wood Lathe/Shaper
2001 SCM TECH80 CNC Router
Case Clamps
JLT 79K-7-SCC Case Clamp
JLT 79F-8-PC Clamp
TAYLOR Carrier Clamp
Dust Collection System
125HP Dust Collection System w/ Spark Detection, Fire Suppression, Auger Loader
Forklifts & Rolling Stock
2015 HYSTER H100FT Diesel Forklift, s/n U005V02013N, Fork Positioners, Finger Control, 72" Forks, 10,000lb Cap., 133.9" Max Lift, 2-Stage Mast, Dual Front Tires, Solid Outdoor Tires, Enclosed Cab, Approx. 9,009hrs
2004 RAYMOND EASI R40TT Electric Reach Truck, s/n EZ-D-04-0484, 36V, 4,000lb Cap., 241" Max Lift w/ Accu-Charger Battery Charger
SKYJACK SJIII 3226 Electric Scissor Lift, s/n 272250
Packaging
Est. 2019 FOX FPS 300 Low Profile Pallet Wrapper, s/n 300-052219-680-H1SAC
2019 SEALED AIR SpeedyPacker Insight Foam-In-Bag Packaging System, Touch Screen Control, s/n SP5-20485
(3) Strapping Machines
Trailers
2023 WEBERLANE Tandem Axel Roll Off Trailer, VIN# 2W9800038PR160434, Model WL1678RO 16' Super Roll Off Frame, 16' x 72" Sides, Approx. 20 Yard Cap., Top Sealed Welded Lid w/ Fill Hole, Rear Barn Doors, Rear Auto Frame Locks, Rear Rollers, 3" Wide Flanges w/ Flip Over Sealed Lids on Fill Holes, Tandem Axel w/ Brakes, (2) Electric Axels, ST225/75D15 Tires, 15" x 6 Bolt, 7,000lbs Drop Leg Jack, Polyethylene Tongue Box, 15,000lbs 12V Electric Winch w/ Remote, Twin Lift Cylinders w/ Side Frame Friction Rollers, Rear Auto Frame to Box Locks, Finished in Black Urethane, Tandem 8000 Axels, Electric Gas Hyd. Power Wireless and Cable Control, Bluetooth
2021 UNITED TRAILERS INC. Tandem Axel Enclosed Trailer, VIN# 56JTE2029NA180607
(3) MOND, TRAILMOBILE, STOUGHTON 53' Storage Trailers
Plant Support Equipment
2015 KAESER ASD25T Compressor, 25HP, Approx. 17,680hrs, s/n 2421 w/ Oil/Water Separator
KLOCKNER Wood Grinder / Chopper, 30HP
2015 DOUCET RC1-8 Stock Gluer, s/n 2015-10-286
CKM Jointer
AIR CONTROL TECHNOLOGY DC-1S Downdraft Bench, s/n 9202-03/02
2020 FABCON Custom Designed Welding Container w/ Rollup Door and Electrical Setup
2021 40' Seacan
20' Seacan
LINCOLN ELECTRIC Power MIG 210 MP Multi-Process Welder
FLARING FL-550 Plasma Cutter
LINCOLN ELECTRIC MOBIFLEX 200-M Mobile Welding Fume Extractor
CANON PRO-4000 Large Format Printer
LARGE QTY. Live Edge Slabs, Raw Materials, WIP Chairs, Furniture, etc.
PLUS: Wood Lathes, Stroke Sanders, Edge Sanders, Drill Presses, Scissor Lift Tables, Power & Hand Tools, Large Qty. of Moving Blankets & Dollies, Products Transfer Carts, Drying Racks, Racking, Workbenches, Pallet Jacks, Packaging Machines, Toolboxes, Chemical Storage Cabinets, Cantilever Racking, Hardware, Office Equipment & Much More!
---